Aiming to provide dedicated, high quality dental care in a calm, relaxed and welcoming atmosphere
Richard Farrant bought Canford Cliffs Dental in 2006 from the previous owner taking on many of the original staff and patients.  Starting out a much smaller version of what you see today; the practice has gradually grown over the years expanding and modernising but striving to maintain the approachable and friendly environment we are well known for.
The practice is built on the foundations of an old family home. Purchased in the 80's the previous owner converted part of the ground floor into a dental practice comprising just one small surgery and the reception area with a staff room on the side.
The original layout remained a workable environment in which to treat patients until Richard and the team decided it was time to expand and update. In 2014 the exciting renovation process began. Two modernised surgeries, a staff and patient toilet, the central sterilisation room and a large welcoming reception area was created, with the added advantage of becoming now completely wheelchair accessible. The complete remodelling took around a year, taking time to ensure each decision was the right one for the practice.
Richard and the team take great pride in what we have achieved and look forward to sharing it with our loyal patients.
What our patients have to say …
"I am more than satisfied. The receptionist is warm and caring in manner and the dental treatment excellent. What more can one ask?".
"Remarkable!
Friendly, knowledgeable and super helpful – Great!".
"The service has been outstanding. The staff are friendly, polite, courteous and accommodate all your needs. The dentistry has been five star, gentle, painless and physiologically fantastic! (if that's a term!)".
"I can't thank Richard and the team enough, when I first came I was a nervous wreck but I was soon put at ease with a warm welcome and exceptionally good care. I felt I was really being listened to and was involved in my care decisions throughout. I would highly recommend".
"We cannot speak highly enough. Richard Farrant and the team looked after our oral hygiene very early on when he first qualified and now we are fortunate enough to visit him in his own practice."
"Excellent dentists, I could not ask for better care".
"I have a lengthy and traumatic dental history; this dentist has restored my faith and confidence".
"Fantastic care, very friendly and professional. Would recommend highly to all".
"I know I am being looked after!"
"If you want to be well cared for, feel your very best interests are paramount, if you want to feel confident that your total oral health is being maintained. If you need that little bit of extra reassurance during a procedure, look no further. "
"Here is a dental practice where the whole person is cared for from the moment you ring through to ask for help, right until the moment you leave. One other important factor is that the costing is fair minded, and one leaves feeling that a realistic price has been charged for totally professional treatment."
Together we will work to achieve a smile you can be proud of.
Mr Richard Farrant
Principle Dentist and Practice Owner
Richard qualified in 1997 and then worked for a year as a junior house surgeon in maxillofacial surgery and restorative dentistry. In 1998 he moved to Dorset to complete his vocational training in general practice is Sandford and Wareham.
In 2006 he took over the Canford Cliffs Dental after a short period of working with the previous owner Mr Alan Tetlow. Since then a steady period of modernisation and alteration has been implemented to grow it to the successful family orientated practice it is today.
Richard enjoys looking after his young family, tries to get out waterskiing as often as possible. He also enjoys running and playing squash.
Miss Heather Crabbe
Practice Manager / Dental Nurse
Heather joined the practice in early 2014 as a dental nurse, with a growing passion for patient centred care and business management she has been building her way up; assisting Richard and Seumus in not only all things dentistry (including surgical and implantology) but also assisting them in all things administration.
Heather has a particular interest in restorative dentistry, and willingly works with both dentist and patient to help them achieve their best smiles. Outside of work Heather is a singer in a band, performing gigs all around Bournemouth and Poole and loves to take part in high adrenaline activities such as rock climbing, kayaking and motorsports. Heather has worked in many different nursing roles in her life but feels that Dental nursing is her favourite.
Mr Seumus Smith
Associate Dentist
Seumus Smith joined the practice in 2015 after the sale of a practice in Fordingbridge, which he had co-owned for over 10 years.
Seumus qualified from Kings College, London in 1995, but was born in Poole and in fact grew up in lower Parkstone, only a couple of miles from the practice. He has worked in all areas of general dentistry, but has a particular interest in endodontics (root fillings) and completed a year's post graduate training in this field at the Eastmann Dental Institute in 2001.
Outside of work, Seumus is married with three children, but still finds time to run a small farm, tinker with motorbikes, snowboard and play trumpet with more enthusiasm than skill.
Bev Mills
Dental Nurse / Receptionist
Bev started dental nursing in 1984 and has worked in two practices before joining Canford Cliffs Dental. She feels very fortunate to work with an excellent practice and enjoys working with a happy team providing high quality patient care.
Bev qualified in 1995 and still finds her job very rewarding, she put her career on hold to have a family but works part time with both dentist and hygienists providing a gentle and relaxing atmosphere, enjoying all aspects of dentistry.
Outside of work she loves to spend time with her teenage children and husband who are all water sports mad so lots of time spent on the beach!
Caroline Raymond
Dental Nurse / Receptionist
Caroline qualified as dental nurse in 1978 having trained at the Birmingham dental hospital. Originally a Midlands girl, Caroline moved down to Dorset to start a family as well as taking care of her late mother and father who encouraged her to get back into dentistry. Richard gave her the opportunity to become a member of his happy team at Canford Cliffs Dental in 2006.
Caroline works part time, taking a particular interest in interacting with patients who are nervous and putting them at ease.
Her spare time is spent with her family and friends, going to theatres, eating out and going swimming with her much adored grandson. Caroline also tries her hand at gardening and kindly looks after the plants in the practice!
Tammy Hilton
Dental Nurse / Receptionist
Tammy has been a dental nurse for 15 years, she worked alongside Richard in the Sandford practice for 4 years before taking a break to have her two children Cameron and Leah.
Tammy joined Canford Cliffs Dental in 2007 and has been a dedicated and enthusiastic nurse ever since. She enjoys all aspects of dentistry and likes to learn new things. She has taken great pride in watching the practice grow and is looking forward to what the future holds for Canford Cliffs Dental.
In her spare time Tammy loves spending time with her family, going camping, having BBQ's and walking their Springer Spaniel Poppy!
Julie Williamson
Dental Nurse / Receptionist
Julie has been working at Canford cliffs Dental for nearly 20 years and has enjoyed watching the profession develop into what it is today, Julie takes particular interest in patient care and is very good at easing nervous patients.
In her spare time Julie enjoys being with family and friends, riding her motorbike and going on holidays with her husband. Other pursuits include skiing, sailing and travelling.
Dawn Star
Dental Hygienist
Dawn began her career in dentistry as a dental nurse where she first worked alongside Richard at a previous sister practice in Wareham. She later went on to qualify as a dental hygienist from The Eastman Dental Hospital London in 2006. She is originally from Poole and is based in practices around Dorset.
Dawn started working with us in 2008 and has enjoyed watching the practice grow and being part of our friendly team. She has a gentle and thorough approach to treatment and takes special interest in gum health. Dawn can work with you to prevent as well as treat dental disease.
In her spare time Dawn enjoys travelling, climbing and beach sports.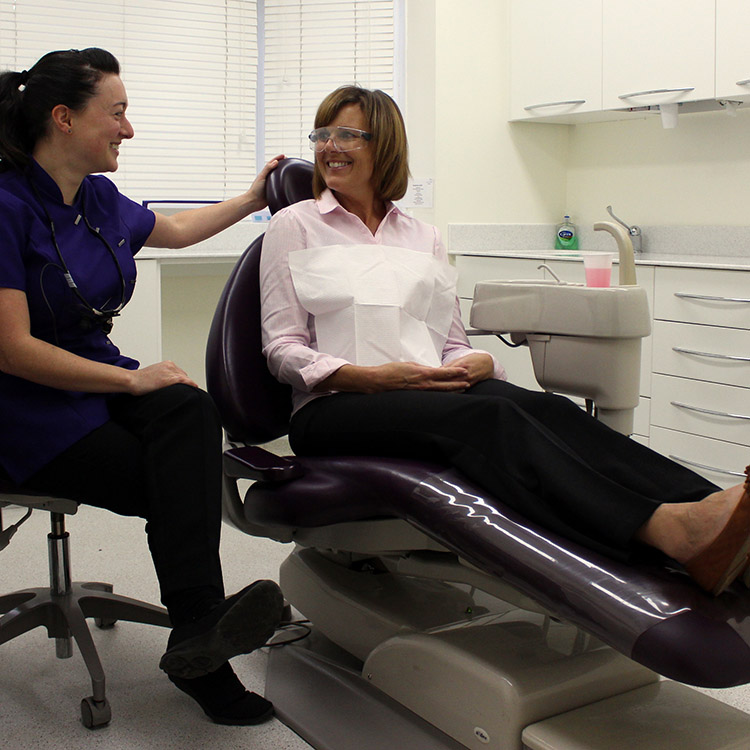 High quality, affordable, preventative and restorative dental care.
Examination:
New patient exam £45.00
New patient under 16 years £22.00
Routine Exams £29.50
Children's routine exams:
0-12 years £12.00
13-17 years £22.00
18+ years £29.50 (same as adult)
X-rays £15.00 additional £5.00 then £2.00
Hygiene services:
Thorough hygienist visit £62.00
Treatment for gum disease with the dentist £115.00
Other treatments & services:
Study models £47.00
Sports gum shield £90.00
Bleaching including 3 tubes of gel £150.00 per arch
Bleaching Gel £25.00
Re-cement crown £75.00
Re-cement bridge £85.00
Repair/ Addition to denture from £85.00
Reline denture from £95.00
Emergency Care:
Unregistered emergency £45.00
Out of hours emergency assessment £90.00 provided by Teladent*
Advice and assessment £15.00
Private prescription £10.00
* Teladent is an on-call emergency dental service comprising a rota of private dentists that cover out of hours advice and call outs in the Poole, Bournemouth and Ringwood area.
Restorative dentistry:
Amalgam (silver) or Composite (white) fillings from £55.50
White crown from £445.00
Gold crown from £485.00
Root canals from £295.00
Extraction from £175.00
Acrylic denture from £390.00
Valplast denture from £650.00
Bridge from £330.00
Veneers from £330.00
Denplan 2016 - fees per month:
Terms and conditions apply
Category A: £13.85
Category B: £20.92
Category C: £26.90
Category D: £31.43
Category E: £42.45
Children's Denplan also available.
For further information please call us on 01202 747552; we would be happy to help!
We look forward to hearing from you
Address
58 Canford Cliffs Road
Poole
Dorset
BH13 7AA

Telephone: 01202 747552
Opening Hours
Monday – 9am to 1pm & 2pm to 5pm
Tuesday – 9am to 1pm & 2pm to 5pm
Wednesday – 9am to 12.30pm & 1.30pm to 5.30pm
Thursday – 9am to 1pm & 2pm to 5pm
Friday – 9am to 1pm & 2pm to 5pm
Out of Hours
If you have a dental emergency out of hours which will not wait until we re-open you may contact the NHS helpline on 111.

If you are a private patient of this practice you may obtain advice or treatment with an on-call dentist via Teladent on 07956 633221.

Please note a call out fee for a Teladent Out of Hours dentist is £90.00 plus the cost of treatment. Denplan patients may be eligible for a partial reimbursement.
FIND US
58 Canford Cliffs Road, Poole, Dorset, BH13 7AA
We are conveniently situated on the main Canford Cliffs Road, at the corner with Boulnois Avenue and opposite the junction with Western Avenue.
Ample road parking can be found right outside the practice.
Canford Cliffs Dental
58 Canford Cliffs Road
Poole
Dorset
BH13 7AA
Telephone: 01202 747552